Know for certain that you will
not go to hell when you die
"I'm basically a good person, so I'll go to heaven." "OK, so I do some bad things, but I do more good things, so I'll go to heaven." "God won't send me to hell just because I don't live by the Bible. Times have changed!" "Only really bad people like child molesters and murderers go to hell."

These are all common rationalizations, but the truth is that they are all lies. Satan, the ruler of the world, plants these thoughts in our heads. He, and anyone who follows his ways, is an enemy of God (1Peter 5:8). Satan is a deceiver and often disguises himself as someone good (2 Corinthians 11:14), but he has control over all the minds that do not belong to God. "The god of this age has blinded the minds of unbelievers, so that they cannot see the light of the gospel of the glory of Christ, who is the image of God" (2 Corinthians 4:4).

It is a lie to believe that God doesn't care about small sins or that hell is reserved for "bad people." All sin separates us from God, even a "little white lie." Everyone has sinned, and no one is good enough to get to heaven on their own (Romans 3:23). Getting into heaven is not based on whether our good outweighs our bad; we will all lose out if that is the case. "And if by grace, then it is no longer by works; if it were, grace would no longer be grace" (Romans 11:6). We can do nothing good to earn our way to heaven (Titus 3:5).

"Enter through the narrow gate. For wide is the gate and broad is the road that leads to destruction, and many enter through it" (Matthew 7:13). Even if everyone else is living a life of sin in a culture where trusting in God is not popular, God will not excuse it. "As for you, you were dead in your transgressions and sins, in which you used to live when you followed the ways of this world and of the ruler of the kingdom of the air, the spirit who is now at work in those who are disobedient" (Ephesians 2:1-2).

When God created the world, it was perfect and good. Then he made Adam and Eve and gave them their own free will, so they would have a choice whether to follow and obey God. But they were tempted by Satan to disobey God, and they sinned. This separated them (and everyone that came after them, including us) from being able to have a close relationship with God. He is perfect and holy and must judge sin. As sinners, we couldn't reconcile ourselves to God on our own. So God made a way that we could be united with Him in heaven. "For God so loved the world that he gave his one and only Son, that whoever believes in him shall not perish but have eternal life" (John 3:16). "For the wages of sin is death, but the gift of God is eternal life in Christ Jesus our Lord" (Romans 6:23). Jesus was born to die for our sins so that we would not have to. Three days after His death, He rose from the grave (Romans 4:25), proving Himself victorious over death. He bridged the gap between God and man so that we may have a personal relationship with Him if we only believe.

"Now this is eternal life: that they may know you, the only true God, and Jesus Christ, whom you have sent" (John 17:3). Most people believe in God, even Satan does. But to receive salvation, we must turn to God, and trust in Jesus to do what He said He would do. Jesus will save us when we ask him to save us, " For whosoever shall call upon the name of the Lord shall be saved" Romans 10:13. Salvation is simply placing your trust into Jesus's hands.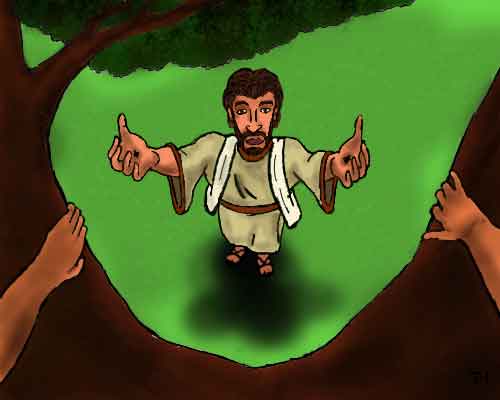 Now, Jesus said He would catch you, do you believe Him?


Faith is a commitment you make, to fully trust Jesus, to trust the ability of those nail scared hands. 'I will jump, but hang on just in case', is not trust. There is an element of doubt in wanting to hang on. That is relying on your own strength. Now think of it this way, Jesus said if you ask for forgivness, He is faithful and just to forgive you of all sins (1 John 1:9). Do you believe that?? When you ask Jesus to save your soul, is He able to do that? That is the moment of faith, it is all for Jesus to do what He said He would do, it is all on His ability, on the fact of His word to be true.



"This salvation from God comes through faith in Jesus Christ to all who believe. There is no difference" (Romans 3:22). The Bible teaches that there is no other way to salvation than through Christ. Jesus says in John 14:6, "I am the way, the truth, and the life. No one comes to the Father except through me."

Jesus is the only way of salvation because He is the only One who can pay our sin penalty (Romans 6:23). No other religion teaches the depth or seriousness of sin and its consequences. No other religion offers the infinite payment of sin that only Jesus Christ could provide. No other "religious founder" was God become man (John 1:1,14) – the only way an infinite debt could be paid. Jesus had to be God so that He could pay our debt. Jesus had to be man so He could die. Salvation is available only through faith in Jesus Christ! "Salvation is found in no one else, for there is no other name under heaven given to men by which we must be saved" (Acts 4:12).

So, back to "How can I know for sure that I will not go to Hell when I die?" The answer is this – believe in the Lord Jesus Christ and you will be saved (Acts 16:31). "To all who received Him, to those who believed in His Name, He gave the right to become children of God" (John 1:12). You can receive eternal life as a FREE gift. "The gift of God is eternal life in Christ Jesus our Lord" (Romans 6:23). You can spend eternity with Jesus in Heaven, for He promised: "And if I go and prepare a place for you, I will come back and take you to be with me that you may also be where I am" (John 14:3).

If you want to accept Jesus Christ as your Savior and receive forgiveness from God, here is prayer you can pray. Saying this prayer or any other prayer will not save you. It is only trusting in Jesus Christ that can provide forgiveness of sins. This prayer is simply a way to express to God your faith in Him and thank Him for providing for your forgiveness.
"God, I know that I am a sinner. I know that I deserve the consequences of my sin. However, I am trusting in Jesus Christ as my Savior. I believe that His death and resurrection provided for my forgiveness. I trust in Jesus and Jesus alone as my personal Lord and Savior. Thank you Lord, for saving me and forgiving me! Amen!"


HOME